We currently have
over $1300 worth of giveaways
for our conference attendees and the list grows by the day! If your business, ministry, blog, or Co-op would like to donate a prize for our giveaway simply email us here:
HOTM Conference
and we'll add your prize to the list and send some linky love your way!
Just look at what is up for grabs!
Rosetta Stone Level 1
Rosetta Stone Homeschool features a foreign language curriculum specially designed to provide homeschool students with a rich, fully interactive and engaging language-learning experience, while giving parents the tools and resources needed to manage student progress without extensive planning or supervision.
Rosetta Stone Homeschool is self-paced and designed to make it easy for parents to offer language learning even if they don't understand the language their students are studying. Students are instantly captivated by Rosetta Stone so they stay engaged. Plus, with positive reinforcement and quick results, their language-learning confidence soars!
They have offered to give away a level one program, in the language of your choice, to one lucky attendee!
(Retail $259)
Winner: Rae Bankson
Complete Workbox System
Heart of the Matter Online is offering a complete workbox system for one child. You will receive 12 workboxes, workbox shelf,
supplies kit
, and
Sue Patrick's Workbox System User Guide eBook
. We are also throwing in lots of workbooks, folder games, and other miscellaneous items to get you started!
(Retail $85+)
Winner: Kara Fery
Subscriptions to Educator.com
Three - 3 Month subscriptions
(Value $60 each)
Winners: Peggy Dalley, Belinda Bullard, and Amy Vause
One - Annual Subscription
(Value $200)
Winner: Sandy Manning
Educator.com is a pioneering venture aimed at equalizing education by assembling the best teachers in the country and making their lectures affordable to everyone. We cover high school and university topics in mathematics, science, and computer programming.
Once you have the best instructor in a subject, learning anything is possible. Educator seeks to find these teachers and bring their expertise to you. With our affordable pricing everyone can access our content because every student deserves an excellent education regardless of geographic location or socioeconomic status.
Home Educating Family Magazine
is generously offering 100 Door Prizes - 1 year subscription to
Home Educating Magazine
$15.95 value each. HEF is for families who want their children to be able to think and thoughtfully engage the culture. Homeschoolers have the advantage of avoiding some of the worse elements of our world, but we also have the responsibility of changing our world. HEF hopes to give you the encouragement, inspiration, and information to do just that!
Winners can be viewed here
Dave Ramsey Kid's Super Pack
(6 Books + Financial Peace Jr. Kit)
Make a real difference in a child's life! For ages 3-12, this kit includes age-appropriate tools for teaching kids about money. It's never too early to teach them how to make wise decisions with their money - whether it's $1 or $100.
(Value $79.94)
Winner: Tracy Jackson
The Homeschool Lounge is offering a gift card to Rainbow Resource Center.

(Retail $25)
Winner: Amy Tuttle
The premier lapbooking company,
Hands of a Child,
is offering a
$25 gift certificate
to their online shop.
Winner: Ami Brainerd
Build Your Own LEGO Harbor
Imaginations set sail with the new harbor-inspired open-ended building set. Young builders can create a container ship, a crane, a sailboat or anything they can imagine. Includes special bricks and elements to bring any water creation to life, plus inspiration for 15 more.
(Retail $14.99)
Winner: Anna-Marie Hawthorne
CITY Police Helicopter
Hero builders can help protect the LEGO CITY from the air. Hover over traffic jams or follow high-speed chases with this police helicopter. Includes one pilot minifigure. Propellers really rotate.
(Retail $9.99)
Winner: Linda Hawkins
Indiana Jones River Chase
Classic, popular LEGO Adventurers theme combined with the power of the Indiana Jones brand! In a daring escape from the Russians, Indy and Marion race off in an amphibious vehicle. Set includes 2 Russians and Marion minifigures and fully equipped Indiana Jones minifigure with whip, hat and shoulder bag.
(Retail $19.99)
Winner: Sally Reagan
The Big What Now Book of Learning Styles
by Carol Barnier
All children want to learn, but so often we give students a key to unlock their understanding of a new concept only to discover that it was the wrong key. The question becomes, WHAT NOW? Carol Barnier delivers a fresh and demystifying approach to learning styles. You'll find answers and so much more. You, the newly energized "Keeper of the Keys," will now have access to the following ideas that will help you find the right key to unlock a love of learning in your K 12th grade child:
spelling activities for every type of learner
40 things to do that gets kids writing
creative ideas that make history exciting and memorable
science that is delight-driven and fun
different approaches to teaching math that actually work
the amazing power of the ditty (over 20 fun examples included)
surprising ways to learn geography so that it sticks
(Retail $19.59)
Winner: Ruthanne Genco
Bible Animal Board Books Set of 8
Fun animal characters help children learn well-known Bible stories in these colorful books. Each book has one line of text per page and many lessons to be learned through the animal.
Big Fish's Supper: Jonah and the Great Fish
Donkey to the Rescue: The Good Samaritan's Donkey
Duck's Loud Quack: The Baby in the Bulrushes
Elephant Keeps Safe: A Noah's Ark Story
Lion Misses Breakfast: Daniel and the Lions
Little Sheep Gets Lost: The Story of the Lost Sheep
The Pig Who Shared: The Prodigal Son
Raven Delivers Food: Elijah Is Fed by Birds
(Retail $48.00)
Winner: Tara Wiley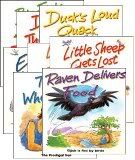 Word Family Tales
A learning library of 25 rhyming storybooks that teach the top 25 word families/common spelling patterns kids need to know to become confident readers, spellers, and writers.
(Retail $64.95)
Winner: Tonja Rainey
The Way I Feel series by Cornelia Maude Spelman
A set of 6 different books written to help young children is recognize and manage emotions and form healthy, happy relationships. When I Miss You, When I Feel Good About Myself, When I Feel Sad, When I Feel Scared, When I Care About Others, When I Feel Angry
(Retail $41.70)
Winner: Rachel Harris
Proverbs to Live By Paperdolls complete set of four and the accompanying Proverbs to Live By Copywork bookle
ts
"Proverbs to Live By" Paperdolls and Copywork booklets by
A Godly Legacy
are an aide for parents and children to memorize and apply scripture together. While creating these lovely paperdolls you will learn and memorize what the proverbs say about... (I) Being a godly daughter, (II) Humility, (III) The Tounge and (IV) Listening and Obeying our parents.
What a joy it has been to learn from creating and using these in our own family. It has been a delight to see our children grow in grace and understanding of the Lord through His word actively at work in our home. We pray these will be as great a delight to you and your family as they have been to ours. And will be of much benefit to both parents and children!
(Retail: $11.25)
Winner: Denise Mantei
Learn About China Kit
(2 available)
Reading about China is great, but wouldn't it be wonderful to be able to touch China with your own hands and experience it? The China Learning Packet will bring a bit of China right to your mailbox!
(Value $13)
Winners: Autumn Beck and Danielle Hanson
Are your kids having trouble understanding the parts of speech? Using Gram Slam Grammar e-Game by Lancaster Learning Co. - you can help make learning fun! This game designed for players ages 7 & up, teaches skills such as forming complete sentences, identifying subjects and predicates, teaching subject/verb agreement, correcting absurd sentences, implementing action verbs and pronouns, and learning to answer Who, What, Where, and When questions. This game is sure to be a hit - uh..
Gram Slam!
with your kids.
(Retail: $6.95)
Winner: Katherine Rhodes
18th Century Lapbook
-Learn about the incredible start of our country with An Overview of the 18th Century Lapbook with Study Guide. Topics include slavery, The American Revolution, Paul Revere, The French and Indian War, The Constitution, Bill of Rights, The Patriots and Loyalists, George Washington, Yellow Fever and more!! A fun hands-on way to learn this time period of history!
(Retail: $10)
Winner: Michele Krause
19th Century Lapbook
-Learn all about the early years of our country with An Overview of the 19th Century Lapbook with Study Guide. Topics include the Louisiana Purchase, Lewis and Clark, Underground Railroad, Slavery, Industrial Revolution, Gold Rush, Oregon Trail, the Civil War, Reconstruction, Immigration and much more. A fun, hands-on way to learn history! Instructions include how to build your lapbook, where to place booklets, a study guide for every topic and a booklet for every topic.
(Retail $10)
Winner: Carrie Evans
20th Century Lapbook
-From horse and buggy to high-powered cars and air born transportation, the 20th century is just bubbling with excitement. It was a time of U.S. involvement in several major wars. We have gone from a time of great depression to a time of excessiveness and leisure. Men have walked on the moon and computers have become a necessary way of life.
Our Overview of the 20th Century lapbook is designed to take your child from the beginning of the century through the end. Each booklet in the lapbook has a complete information page that provides lots of useful and interesting information about the topic being studied. The lapbook booklets and information pages include lots of actual photos of events and people.
Includes graphic and color coded directions on how to construct your file folders into a lapbook, how to put together each booklet and where to put them in your lapbook. This lapbook is 3 folders big!
(Retail $10)
Winner: Joy Miller
Our Sunburnt Country
-Australian History ebook.
From
Down Under Literature
: Our Sunburnt Country is an illustrated history of Australia tells the story of Australia's heritage, from Aboriginal settlement until the present. The chapters read like stories. This book is not a boring fact dissection that has attempted to cover everything. Instead it offers the reader a smooth-flowing piece of good literature that captures the historical events that have shaped a nation and culture.
Reading this book alone will enrich your knowledge and understanding of Australian history. This book is also perfect for teaching Australian history in the homeschool.
(Retail $15)
Winner: Heather Seamann
G.A. Henty's Illustrated novel, The Cat of Bubastes
Enter the world of Ancient Egypt and Persia--about 1450 B.C through this incredible, beautifully
illustrated and interactive Novel by G.A. Henty. Loaded with an incredible number of illustrations and maps, as well as Interactive links into the background and characters of the story--this e-book has it all!
"Imagine living in a nation where killing a sacred cat is a capital offense! The Egypt of Pharaoh Thutmose III, in Moses' day, was such a land. When Chebron, son of a priest, accidentally kills the sacred cat of Bubastes, his life becomes a series of harrowing adventures, with the only hope of safe haven for himself and his sister being a distant land, which can only be reached after fleeing through closely guarded Egyptian exits. Then they must embark on a challenging journey through unfamiliar lands populated by unfamiliar people and overcome numerous geographical obstacles.
(Retail $12.95)
Winner: Amanda Schweikert
Real Moms, Real Jesus
What does Jesus know about the peanut-butter-and-jelly life of a mom? Plenty! Jill Savage, founder and director of
Hearts at Home
, introduces the real Jesus to real moms. In chapters that examine key behaviors and decisions Jesus made during His life on earth, Jill brings those lessons right down to the laundry-filled, sticky-fingered days every mother knows.
Between the chapters are interactive vignettes that turn the concept of the book back around. If the meat of the content is looking at Jesus' life on earth and understanding how to apply that in our everyday lives, these perspective vignettes are brief, refreshing glimpses starting with our own messy, busy lives. Jill continually reminds the reader that Jesus is not an unattainable deity, but a Friend who understands.
(Retail $13.00)
Winner: Kym Keeley
So, You're Thinking About Homeschooling?
"Doing school" at home… What would that look like? Can I really teach my children? Can it strengthen our family? What will my mother-in-law think? Is it a better education? Will I ruin them for life? Are they safer at home? Will I go crazy in the process? What if I need to work outside the home? Must I have twelve children, raise goats, and bake my own bread? Where do I start? And what about Socialization!"
Most homeschooling books, full of impressive facts and information, are written to address the mind. I'm guessing that it is for the love of a child that you have even picked up this book in the first place. That is why I have chosen to speak to your hearts, along with your minds, using stories Fifteen Diverse Families. Fifteen Different Styles. Beginning with my own, I want to introduce you to families in unique situations, who have all chosen to homeschool for different reasons, using a variety of learning methods.
My hope
is that by the end of this parade of homes, you will identify a family situation and teaching approach from these stories that resonates with your personality and philosophy of education. The bottom line is, you have to find what works for your family. And to do that, you need to know what's out there. So… Let's rap lightly on the homeschool door and peek inside…before we decide if we are ready to move in.
(Retail $13.00)
Winner:
Maren Katz
Manners Always Matter
Set of 10 different books. From saying please and thank you to playing nicely, preschoolers learn valuable lessons from these entertaining stories. Let's Be Friends, Please, Thank You, May I Help?, Be Patient, I'm Sorry, Let's Share, Play Nice, Excuse Me, Be Honest
(Retail $10.99)
Winner: Roxann Pool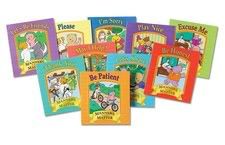 Comic Strip Math

40 Reproducible Cartoons With Dozens of Funny Story Problems that Build Essential Math Skills. Skill-building story problems will make every learner fall in love with math. Activities reinforce specific key math skills such as multiplication, division, fractions, measurement, geometry and more! Each reproducible page features a 4-panel comic strip and 10 fun-to-solve problems.
(Retail $14.50)
Winner: Lorraine Yuriar



Magical Reading Motivations

Designed to motivate children to read. It contains tips, advice, bookmarks, charts, certificates, and much more!

(Retail $15.95)
Winner: Tammy Nelson
All My Own Work - Adventures in Art

by Carole Armstrong, Anthea Peppin

About this title: This engaging "draw from your imagination" book holds many adventures for young readers: a dragon to fight, a mystery ship sailing to shore, a splendid archway to step through. The starting point for each adventure is an intriguing image from a painting in London's National Gallery. With the help of paints, crayons, pencils, felt-tip pens, scraps of paper, and, above all, imagination, budding artists fill in the scene. Reproductions of all the original paintings appear at the back of the book. From an adult's perspective, the finished projects can offer valuable insight into a child's thoughts, desires, and anxieties.

(Retail $6.95)
Winner: Aimee Sonderman

Classically Cursive

The Classically Cursive series teaches a handwriting style quite similar to that of D'Nealian. It does not teach manuscript, except in a very cursory fashion in Book I, and focuses entirely on cursive. The four books offer a fair amount of content, working with letter shapes, connections, and then words, before it goes on to some Bible verses (NKJV), the ten commandments, catechism questions and attributes of God. Book I begins with nine pages of manuscript review, quickly working through the entire alphabet. From there, it offers a series one page drills for each letter in cursive, first 26 pages of lowercase (tracing a letter, writing the letter without tracing, practicing connections by writing the letter twice, and then using the letters in other words), and then by going over the alphabet again in uppercase (where the letters are first traced, written without tracing, and then used at the beginnings of names). After this practice, students practice writing the names of the books of the Bible, and learn a few key facts about the Bible, as well as the Lord's Prayer. The book concludes with several pages of instruction on forming letters, both in manuscript and cursive.
(Retail $10.95)
Winner: Karen Knapp


The Blumenfeld Oral Reading Assessment Test

Here's a quick, proven, inexpensive way to measure the reading grade level of your student(s) privately. A one-time investment, this 380 word test is easy to administer and score, can be done in less than 15 minutes, and will tell at what grade level (1-12) your student is reading. Any reading problems are easily detected, allowing you to provide any needed remediation. Another 380 word test to use after your remedial work is administered is also provided, so you can check for improvement/correction. 5 copies of each test ("before" and "after") are included, along with information about the background of the test, an explanation of how it works, and how to score it. First and second graders can be tested using the beginning part of the test, but the overall test is intended for third grade and up.
(Retail $19.95)
Winner: Cassandra Simpson
Homeschooling By The Book
by Andrea Soldini is a necessary resource for parents to equip themselves to lay a solid foundation and homeschool consistently well.
Winner: Lysa Wilson
Colour-Me-Family
brings a lil' fun to the mailbox!
Create custom address labels to look like your very own family. These labels are the perfect accent to greeting cards, Christmas cards and parcels. Have your child create their very own set to use on letters to Grandma or other school projects. Or surprise a friend with a set.
Colour Me Family is giving away a set of 60 address labels.
(Retail $19.99)
Winner: Erica Barbour
Values Driven Family
is offering a two book set:
The Values-Driven Family is the answer you've been looking for! It brings together, in a balanced way, everything that the Bible says about family living. It covers family leadership, parenting essentials (training, encouragement, and discipline), family relationship-building, and even practical things like budgets and schedules and "children and chores." It is the most comprehensive resource out there--easy to read and apply!
and...
Values-Driven Discipleship can help! It sums up, in twelve "core value" concepts, the traits that express Christlike character. It spells out and organizes key Bible verses that you can leverage to get to your child's heart with God's Word.
Use it proactively to teach through the verses and help your child to grow in the values that God values: Faith, Surrender, Love, Faithfulness, Wisdom, Self-Control, Righteousness, Holiness, Humility, Diligence, Generosity, and Praise. Or, when issues and incidents arise, go to the handy index to look up those behaviors, and find verses for correction and re-direction. The spiral-bound manual has quick-reference tabs for each character trait so you can easily find just what you need.
(Retail: $24.95)
Winner: Kahri Lynn
The Victor
-
A Tale of Betrayal, Love, and Sacrifice by Marlayne Giron
"A benevolent King;
...his sword of power;
...a ruthless traitor bent on revenge;
...and the faithful son who stands in his way with the woman destined to share his throne.
Who shall emerge as the victor in this epic struggle between good and evil to govern the lives of hapless men?"
The book comes with lesson plans for use with English.
(Retail $16.99)
Winner: Lisa Patel
From
Out of the Box Publishing
,
your choice of one of the "10 Days" Games.
You have 10 DAYS – touring by plane, car, and on foot. Chart your course from start to finish using destination and transportation tiles. With a little luck and clever planning, you just might outwit your fellow travelers. The first traveler to make connections for a ten day journey wins the game.
Winner: Aimee Davis
A one year subscription to

My Audio School.
My Audio School offers a wide array of educational audio content in a beautiful, easy to navigate format. Featuring public domain audio books, historic news broadcasts and literary radio theater performances, My Audio School is easy for children to use on their own. Whether you are looking to add classic audio books or historic radio broadcasts to your curriculum, My Audio School offers something for every home educator. (Retail: $14.99)
Winner: Salina Holland
Literature Discovery Guide & Book by
Blackbird & Company Educational Press
Let Blackbird & Company guide your children into the deep practice that breathes life and purpose into reading. Help them grow in the ability to appreciate and respond to a range of literature, and to practice what matters over time to discover the significance of great stories. Choose any title from our Level 1, 2 or 3 guides and also receive the book with it. (Retail $17-20)
Winner: Tricia Courchesne
"Usborne Books Arts and Activity Pack"
Usborne Books - Quality books with beautiful illustrations, simple ideas, and fostering learning. Helping create enthusiastic readers!
www.KinderSafari.com
Includes 3 titles:
Vacation Activities
How to Draw Animals
The Usborne Book of Juggling
Value: $22.85
Winner: Angela Parsley
Thames & Kosmos Space Exploration Science Kit
Learn how to use certain chemicals reactions to paint an American Flag that appears out of nowhere. It may seem like magic to observers, but you will know the explanations behind the magic.
* Plastic, cardboard, modeling clay and rubber construction
* Launch three types of rockets
* Recreate lunar and solar eclipses
Courtesy
A High and Noble Calling
(Retail $34.95)
Winner: Chris Worthy
Within the Web- A Unit Study for Charlotte's Web
Introduce your child to the amazing world inside Zuckerman's farm and into a web of learning! Based on the classic Charlotte's Web by E. B. White, this unit study contains fascinating activities that deal with insects, friendships, animal classification, barn photography to name just a few. Using our unique approach to activities based on the whole child's needs, there are an amazing amount of activities to pick from to meet your child's needs and interests.
Courtesy
Fortunately For You Books
($9.99 value)
Winner: Michelle Gibson
Devotional Package courtesy
Growing in Grace Magazine
God's Precious Promises New testament (KJV)
Pampered Chef Seasons' Best Fall Recipes 2008
Inspirational Devotion Journal (wire spiral bound)
Elsie's Endless Wait by Martha Finley (Life of Faith Girls)
Sydney Clair (Girls n' Grace in the 1960's) by Pam Davis
Mesi' Season of Change (Girl's n' Grace A Frienship Story) by Pam Davis
The Duggars: 20 and Counting! by Michelle & Jim Bob Duggar
$5 Gift card to Starbuck's
Winner: Nancy Spadgenske
One year subscription to The Old Schoolhouse Planner Modules
Enjoy the benefits of Membership! With your
Planner Module Membership
, as each month's module becomes available you will receive notice when it is time for you to download your copy. Save time and money with your membership.
* Every module is filled with interesting information and facts, studying a topic in-depth.
* We look far and wide to find the best additional resources to expand your studies.
* You'll find activity pages, quizzes, and puzzles your kids will beg to work on!
* Your children will enjoy coloring pages designed just for our modules.
* We include copywork to help develop penmanship skills.
* Yummy recipes in every module!
(Value $71.55)
Winner: Kim Wright
The Girlhood Home Companion Subscription
The Girlhood Home Companion is a beautiful 4-color companion guide, magazine, and character study all rolled into one publication. The Girlhood encourages young ladies (ages 10-18) to enjoy their precious girlhood years while walking closely with the Lord and developing a deeper relationship with Him. Filled with the wisdom of writers from the past and present, each edition features encouraging articles and stories that center on one character quality per issue. Each theme is explored in-depth through editorials, articles, and stories that will minister to the heart of your daughter, while teaching her the practical skills of homemaking, cooking, crafts, sewing and other girlhood pastimes.
(Value: $29.95)
Winner: Jennifer Matlock