Back to Top
At Sonlight, we empower you to nurture enthusiastic, life-long learners who are motivated and equipped to follow Christ wherever He leads and in whatever He calls them to do.
Sonlight Curriculum, a literature-rich, Christian based homeschool curriculum company, helps you bond as a family as you learn together and makes history comes alive through fascinating books. Our complete curriculum packages and individual homeschool materials for Pre-K-12 offer you the tools you need for a rich learning experience.
Feel free to explore our booth and learn more about how we seek to serve you.

Back to Top
Your free gift, for visiting Sonlight's booth:
Be part of our online Forums community for a full 90 days ($12.99 value).

Sign up by Sunday, August 10th, and you could also win a $25 Sonlight coupon...
Would you like to know more about Sonlight before you try one of our programs? There's no better way than to meet real Sonlight moms, listen as they talk honestly about their experiences, and even ask them questions of your own.
I invite you to join Sonlight's online Forums for a full 90 days, free. And to "sweeten" the invitation, Sonlight will randomly draw one name from those who sign up—the winner will receive a $25 Sonlight coupon.
Your Forums access connects you with warm, vibrant conversation. This is not a limited read-only "guest" access, but three months for you to browse all sorts of forums, and participate as fully as you want: soak up encouragement and advice, share exciting news, pray together, swap recipes—kindred spirits are waiting to meet you!
I've even created a new "Heart of the Matter" forum just for you and others who sign up for free 90-day Forums membership during the conference. We'll be contributing, and encouraging, new conversations there regularly. I'd love to continue getting to know you, and help you however I can as you explore the Sonlight forums this summer.
Should you choose to do a Sonlight program, continued Forums access is just one of several perks you'll enjoy as part of your purchase (90 days of full access is regularly $12.99). Meanwhile, I hope you enjoy this free time—get to know some homeschoolers, enjoy their company, and ask anything you like about Sonlight (or whatever).
Thanks for visiting Sonlight's booth! I hope to see you on the Sonlight Forums, too.
Back to Top
Judy Wnuk (your Sonlight booth "virtual hostess")
Judy Wnuk, Sonlight Curriculum Consultant and homeschool mom for 11 years
Email Judy
Welcome to Sonlight!
I'm Judy Wnuk. As I enjoy teaching my three children, I love to help and encourage other homeschool parents in the journey as well. I'm here to answer any specific questions you may have, or even give you a run-down of what Sonlight's all about. If you'd like a
Sonlight catalog
, I'll be happy to mail you one right away!
Feel free to discuss curriculum questions with me by clicking on the chat link to the left. I look forward to learning more about you!
I also invite you to join me on the special online forum for Heart of the Matter conference attendees.
Back to Top
Take advantage of Sonlight's Mini-Workshops
Judy Wnuk, Sonlight's "onsite" Curriculum Consultant will host mini interactive workshops so you can ask questions, grab more detail, and benefit from others' questions as well
.
Join her here at the following times, or start a discussion anytime throughout the day:
Thursday (7.31) … 10:00-10:30 AM ET …
What is Literature-Based Learning Anyway?
Thursday (7.31) … 4:30-5:00 PM ET …
Sonlight: From Pre-School to High School
Friday (8.1) … 9:30-10:00 AM ET …
What Does a Day With Sonlight Look Like?
Friday (8.1) … 3:00-3:30 PM ET …
How Do I Do This With More Than One Child?
You can "Sonlight" with your children from their toddler years, all the way through high school. Take a look at some of our best homeschool programs and resources here.
To Sonlight your family (yes, we think it's also a verb), simply choose a program for your children's age or grade, and spend the year growing in insight and wonder along with them. Here's how...

For any year (by your child's age or grade) you can create your own customized blend of subjects, levels, electives, resources and more—in just a few guided steps at our website. If you are new to homeschooling (or to Sonlight), you may enjoy trying a Sonlight Newcomer™ package instead; these ready-to-go, grade-appropriate sets (for PreK-6) include everything we believe you'll need to give one student a well-rounded education for a full year. Add just a few extra consumables, and you're ready to teach two or more.

There's one word you'll hear a lot around Sonlighters: Core. Put simply, your students experience their reading, history, and geography in one powerful combination to learn far "more than the sum." You'll find a Sonlight Core at the heart of every complete curriculum year, or you can try one on its own.

Whichever Sonlight program you choose, you'll have all our 50+ years of combined experience at your fingertips each day. That's your Instructor's Guide—check out the guide for Sonlight Core 5 below.

When you want to pick and choose your programs by subject (like the Science, Art or Economics examples on this page), Sonlight makes that easy, too. And even when you're not shopping for your year-long programs, you can enjoy discovering lots of delightful resources. Our exclusive Math and Science DVD videos, for instance, are a "smash-hit" with kids and parents alike.
Back to Top
Here are a few products from our complete curriculum lineup
Exploring God's World:
Sonlight Newcomer™ P4/5
(for ages 4-5)
Includes 26 books, 4 consumable workbooks, and 1 audio CD, plus Instructor's Guide with poly-binder.
Show your preschooler how much fun it is to read and learn as you share a joyful introduction to many cultures of the world...
With Sonlight's second year of preschool "curriculum," lead your little ones from their first picture books to sharing great fiction, Bible stories, and classic rhymes with you. Dive into the miracles of science and nature, too. Even inspire your children's creativity through encounters with famous art...
That's not all: you'll also discover your children's learning strengths (and struggles) while you help them develop their motor, visual, auditory, and comprehension skills.
And you won't need to write a single lesson plan all year long—your Instructor's Guide (included) makes every day a self-propelled "learning adventure."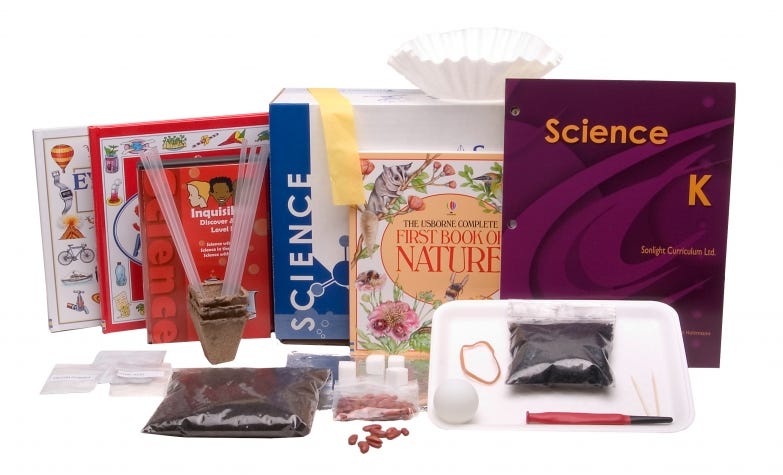 Biology and Technology:
Sonlight Science K
(for ages 5-7, grades K-2)
Includes Instructor's Guide with consumable activity sheets plus three full-color books, basic experiment supplies kit, and DVD video.
Investigate and discover the amazing creatures of God's world, and the complex wonder of human technologies.
What an awesome planet we live on! Sonlight Science K follows a "spiral" pattern of education, touching on topics you and your children will return to over and over in years to come...
Introduce your children to God's incredible world of living things, with a fascinating introduction to the science of Biology. Meanwhile, you'll explore what God has permitted us human beings to create—using the science of Technology.
To get you started, Sonlight equips your "lab" with a basic supply kit of consumable items for doing science experiments. To complete your program, you can choose a set of non-consumable supplies. And to add even more fun to your science quest, we've included the first DVD from our Discover & Do™ series!
Introduction to American History, Part 1:
Sonlight Newcomer™ 3
(For ages 8-11, grades 3-5)
Includes 74 items: reading books, consumable workbooks, audio CD, resources, plus all Instructor's Guides with poly-binder and index tabs.
Take a guided journey across American History, from before the Spanish conquistadors through the 1850s.
Here's everything you need for a great school year with your 3rd-grader. All in one package, you'll have Sonlight's Core 3 (History, Bible, Readers and Read-Alouds), plus your Language Arts—which is purposefully connected with the books your child reads. But there's still more...
Your Science and Math are included, too. So are programs for handwriting, art, music, and critical thinking. Sonlight also put together all your resources: maps and markers, activity sheets and other "consumables," even a complete kit for all your science experiments!
Sonlight Newcomer™ 3 is a great place to start. But if you want to adjust certain subjects for your child's strengths or needs, we walk you through in just a few steps.
Sonlight Instructor's Guide for Core 5
(History, Reading, optional Bible)
Use to teach our complete Core 5, including
Eastern Hemisphere Explorer
(below).
Includes two full schedules (4-day and 5-day), Teaching Helps, Student Study Guides with Activity Sheets, and much more.
Dive right into quality teaching time—with ready-to-use schedules, plans, activities, and more—in every Sonlight Instructor's Guide... like this one:
Your day is busy—meals, chores, errands—yet you want the best education for your children. Let Sonlight handle all your planning, with your Instructor's Guide (IG).
We schedule and organize everything for you in easy-to-use weekly charts. You'll cover the right material at the right pace, because you're free to follow along... or modify any day's plan to suit your family's life.
You're armed with maps, timelines, answer keys, and deep content notes to help you teach your children in each subject (and tackle any question). You can even use a single IG (with extra consumables) to teach two or more students at once—a huge time and money saver.
Sonlight's Core 5 explores the Eastern Hemisphere. Virtually all the world's unevangelized people live here. Your Instructor's Guide can walk you through one of our most popular year-long programs, as you get to know the history, cultures, and religions of this enigmatic "other side of the world."
Eastern Hemisphere Explorer
(for ages 10-13, grades 5-8)
Includes Student Exploration pages and Answer Key
Sonlight Exclusive! Consumable, included in Sonlight Core 5
Students learn how to explore a world of information as they discover distant lands and rich cultures.
Why teach your children to just look for "the right answer?"
Instead... help them ask, "why is this important?"
This adventure-theme book is like an experienced tour guide through the vivid countries and regions of the Eastern Hemisphere. Your students interact with maps and timelines, thought-provoking questions, creative projects, and more.
For 2008, Sonlight added more fascinating detail for each country. We also transformed the way this trek unfolds, with more student-led investigation. Yes, we still give you the Answer Key—but you also get to watch your children strike out on a personal quest, and come back with findings (and stories) of their own.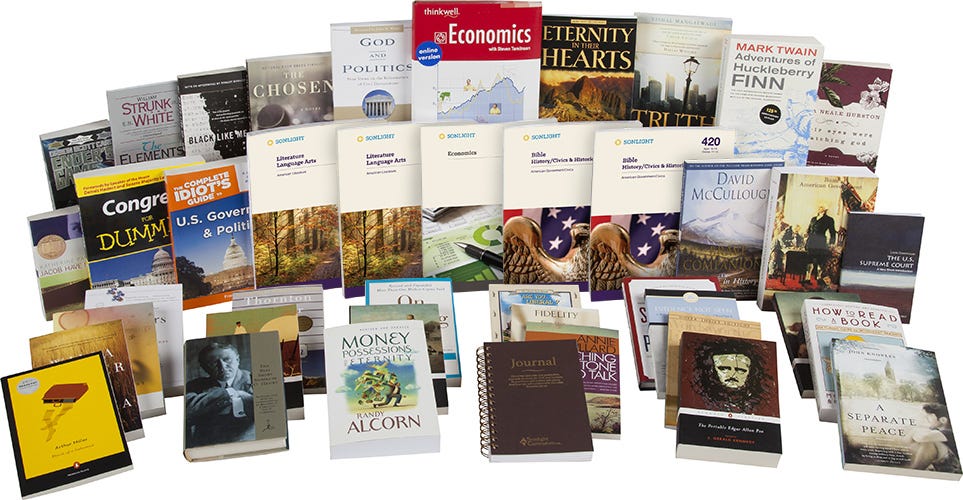 Civics & American Government: Sonlight Core 400
(for ages 16-18, grades 11-12)
Includes 39 items: literature and reference works, plus complete Instructor's Guide with storage binder and index tabs.
Your high schoolers learn not only how American civil government works—but why.
Students experience a far deeper view of U.S. government than any textbook can give. From some of the most powerful historical fiction from American pens, to more than sixty pages of "source documents" like the Constitution and Declaration of Independence, they—and you—will come away with fresh, strong convictions regarding a rich civic heritage.
Examine civil government through the lens of your Bible. This program incorporates Bible study in a way no other Sonlight course does. See the hand of God at every turn, in the birth and growth of this "one nation under God."
Sonlight's Core 400 is designed as independent study for your older students. They learn daily academic discipline in charting their course; your Instructor's Guide helps you discuss key issues with them and monitor their progress.
ARTistic Pursuits™
Visual Arts Skills Curriculum
Four programs: grades K-3, 4-6, Junior High and Senior High
You may feel as inspired as your children when they show you their latest personal works of art.
Capture children's imaginations while they learn and practice art fundamentals. Watch them find their own creative strengths, and learn to work independently.
Young artists refine their observation skills as they examine high-resolution prints of famous master works, then engage in related hands-on projects. Sonlight even created a supply kit to equip you for every lesson in each book.
New edition includes an expanded Art History section, to help your children see the world more clearly—and express themselves more deeply. From the K-3 book, your student can stay with the ARTistic Pursuits program all the way through high school.
Sonlight has a somplete supplies kit for each book, too.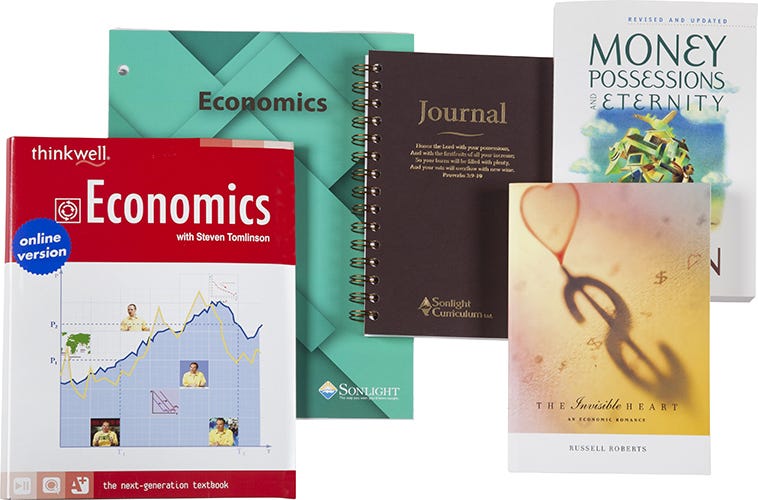 Sonlight's Complete Economics Program
Includes 5 items: Thinkwell's multimedia course (CDs and online access), Sonlight's matching Instructor's Guide, two books (one study and one novel), plus a blank personal journal.
No textbook can demystify the world of Modern Economics like Sonlight's deep, balanced (and Biblical) multimedia tour.
Enjoy a clear, critical view of the field of Economics from the vantage point of Sonlight's combination of dynamic online videos, excellent notes, interactive exercises, and modern literature. From basic theory to "Political Instability and Trade," get your student ready for success in college placement or AP exams.
At the heart of Sonlight Economics, students skip dense text and engage with hundreds of internet-based tutorial videos. Illustrations, examples, and humor abound—together with a wealth of rich notes and rigorous exercises (automatically graded), it all helps the ideas really sink in.
And what is God's "take" on our theories and values? Your students will ponder many spiritual questions in a thorough, practical study of what their Bible says about economics (and it says a lot).
Virtually all high schoolers in the U.S. must pass an Economics course. Success in this subject can propel them ahead in college and career. Let Sonlight help!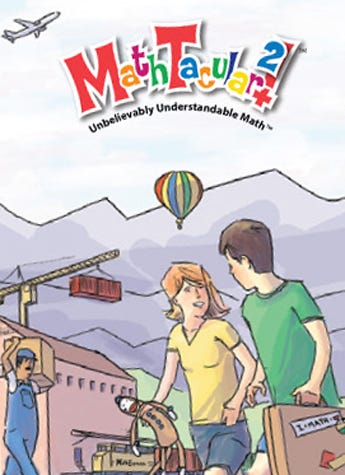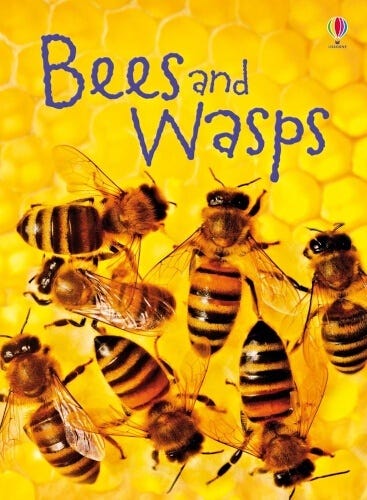 Imagine your children understanding and enjoying both math and science like never before...
Learn fractions from an apple, turn cars into yardsticks, and share snacks with a bear hunter. It sounds silly, but "Professor Justin" may win your children over so they want to watch MathTacular all the time! We armed Justin and crew with every concept from every Math K program Sonlight carries. He uses all sorts of objects and real-world scenarios to reveal how math surrounds us every day.
In Discover & Do, Volume 1, you'll watch Justin conduct nearly 100 Science experiments from Sonlight's Science K program. And you'll learn how to do them yourself—in the comfort of your own home.
The hilarious fun (and learning) goes on in MathTacular2™ and four more Discover & Do videos!
MathTacular™: Unbelievably Understandable Math™ (DVD Video #1 in series, for ages 4-7, grades PreK-2)

Discover & Do™: Vo. 1 for Science K (DVD Video #1 in series, for ages 5-7, grades K-2)
Looking for something you don't see here? Please be sure to ask Judy, your expert Sonlight Consultant throughout the conference.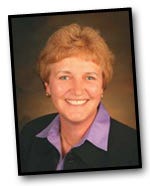 Sarita Holzmann, President, Sonlight Curriculum
Don't miss "A Novel Idea: How Living Books Teach," a workshop by Sonlight's president, Sarita Holzmann. Thursday at 1pm, Eastern time, this homeschool mom of 12 years shows you how to use literature to make learning come to life for your children. Come join the discussion and ask any question you want!
Back to Top
Thanks for Dropping By!
Don't forget to take advantage of our free content and resources that can set you on the path to our guaranteed homeschooling success.

Here's a smattering of what we offer:

And don't forget all the free benefits you will receive when you join the Sonlighter's Club, including:


Discounts of qualifying orders


Free forum access


Free standard shipping


Free subscription to Sonlight's online mailing